We've had a great time sharing about the amazing wildlife that occupies Southwest Florida! From the Bottlenose Dolphin, to the American Bald Eagle, to the American Alligator, and this week – the Snowy Egret!
The Snowy Egret is a year round inhabitant of Florida, the Caribbean, and much of South America. This beautiful white heron is easy to identify, with a yellow patch around its eyes, yellow feet, its black legs and beak. Southwest Florida is an ideal habitat for these birds, which are usually found near bodies of water, including ponds, rivers, and coastal waters. They usually grow to about two feet in length, with a wingspan of three feet – feeding on various sea food fare, including shrimp, minnows, and other small fish.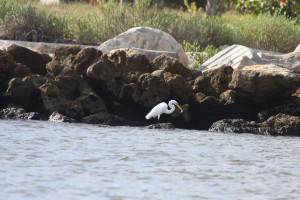 The Snowy Egret's breeding habitat ranges all the way from
the coastal wetlands of the Great Lakes, down to the swamps and marshes of the southern U.S. states, and into the rainforests and lush tropical habitats of the Caribbean and South America.
The Snowy Egret is a amazing example of Southwest Florida's divers wildlife. If you're ready to see a few of the remarkable animals that reside in the coastal waters of Southwest Florida for yourself – just give us a call at 239.263.4949 or visit CruiseNaplesFlorida.com! More exciting topics coming next month on the Cruise Naples Blog – be sure to Subscribe via RSS to receive updates!